The Children's SPOT Inc. provides Speech and Occupational therapy services Monday through
Friday
, and ABA therapy services 7 days a week.
We observe the following holidays:
New Year's Day
Memorial Day
Independence Day
Labor Day
Thanksgiving Day
Christmas Day
Speech and Language Therapy Services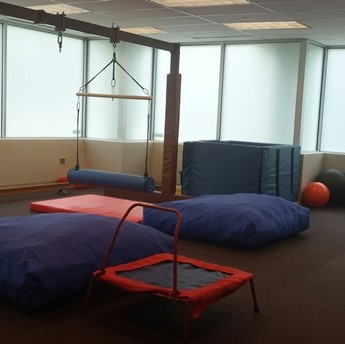 Speech therapy services benefit children with articulation delays, phonological disorder, auditory processing disorders, language delays, and social skills difficulties. Our therapists have experience working with children with a variety of disorders including down syndrome, autism spectrum disorder, attention deficit disorder, auditory processing disorder and learning disabilities. These services are overseen by Nicole Orellana.
Occupational Therapy Services
Occupational therapy services work with children and young adults to help them improve participation in everyday activities. Occupational therapy services benefit children who have sensory dysfunction, gross and fine motor delays, handwriting deficits, executive functioning deficits and visual/perceptual deficits. They have experience working with children diagnosed with autism spectrum disorder, attention deficit disorder and developmental delays.These services are overseen by Angela Liston.
Applied Behavior Analysis Services
ABA services provide instruction to children and young adults who have skill deficits in a variety of areas; these areas in include communication, behavior management, play skills, academics, self help skills and vocational training. ABA therapy services are either provided by a Board Certified Behavior Analyst or supervised by one. In cases where the Behavior Analyst is supervising the program, highly qualified ABA instructors implement the programs. These services are overseen by Kimahni Peele.

Specialized Services
The SOS Approach to Feeding
The SOS Approach to Feeding is a Play-Based program that teaches children to eat at a pace that respects their readiness to progress through learning the 32 different steps involved in the task of eating. We teach the children the skills they need in order to eat a wide variety of food types and textures using the natural, social reinforcement of playing with the food and interacting with adults.
Learning Without Tears TM
Learning Without Tears (LWT) is our Handwriting Program of choice as it integrates manipulatives, song and dance, and easy stroke sequences.
Handwriting is a complex skill requiring the coordination of multiple body systems. In order to evaluate a child's handwriting difficulties, multiple factors must be considered including overall development, medical history, fine motor skills and strength, core stability, visual perceptual skills, and even delayed reflex integration.
In handwriting sessions, we use several approaches to address the underlying issues causing children difficulty with handwriting. Fine motor strengthening is a focus to facilitate sides of the hand separation for development of appropriate grasp on a pencil or pen. We utilize a metronome beat with Brain Gym activities to incorporate Left and Right brain hemisphere communication by improving cognitive processing, timing, and coordination through rhythmic movement. Core strengthening, balance, and coordination training enhance the child's ability to remain seated with good stability. We then target the Left hemisphere of the brain through the senses to enhance learning of letters/sounds/reading. This is achieved through targeting 3 senses (scent, color, and sound) to stimulate the Left hemisphere and prepare the brain to receive the written/auditory instruction.
PROMPT TM (PROMPTs for Restructuring Oral Muscular Phonetic Targets) from "Technique Level" and "Bridge Level" therapists
PROMPT TM is a technique to help those who struggle articulating sounds and sounds sequences, in particular, but not exclusive to, those diagnosed with Apraxia of Speech. PROMPT therapy provides "tactual sensory information (in addition to auditory and visual), to support and develop speech-motor functioning leading to improved communication functioning across all domains." (taken from https://promptinstitute.site-ym.com/).
Hanen It Takes Two to Talk® Program
The Hanen It Takes Two to Talk® Program is designed specifically for parents of young children (birth to 5 years of age) who have been identified as having a language delay. In a small, personalized group setting, parents learn practical strategies to help their children learn language naturally throughout their day together.

Over the course of the 12 week period, the SLP leads 2.5 hour weekly parent training groups of 6 to 10 families. The therapist will teach Hanen strategies for encouraging language development through dynamic, engaging sessions in which families practice strategies and develop a plan for how to incorporate these strategies into their daily routines. Videos will be used and the SLP will teach families how to problem solve and make the most of their child's early years to develop better communication and language skills.

In addition to individualized feedback provided during the group sessions, the SLP will meet individually with families and their child for 3 sessions. During these individual feedback sessions, the SLP will provide specific, individualized support and coaching to help each family incorporate learned strategies into their everyday routines.

The 12-week program costs $1500.00. The 3 individual feedback sessions may be submitted to insurance for reimbursement.
The Children's SPOT Inc. does not provide expert witness testimony or volunteer to testify in court hearings.